1 cultural event
"CULTURE AND MEMORY" SHOW OF PAINT ART OF ALBERTO BAUMANN FROM 10 SEPTEMBER 2017 TO 27TH MARCH 2018
From Sunday, September 10 to Saturday, January 27, 2018, respectively at the "European Day of Jewish Culture" and "Memory Day", will be exposed to the public, always inside the civic gallery of the former Bourbon prison "Torre Capitania" , the pictorial art exhibition "Culture and Memory" by the Italian journalist, writer, painter and sculptor of Jewish origin Alberto Baumann (1933-2014). The show will be open to the public every day Tuesday to Sunday, excluding Monday, from 9.30 am to 12.30 am and from 5 pm to 7 pm in the afternoon. The cost of the ticket is 2 euros, including the catalog.
THE ANTICA TOWER CAPITANIA HAS ALWAYS HOSTED: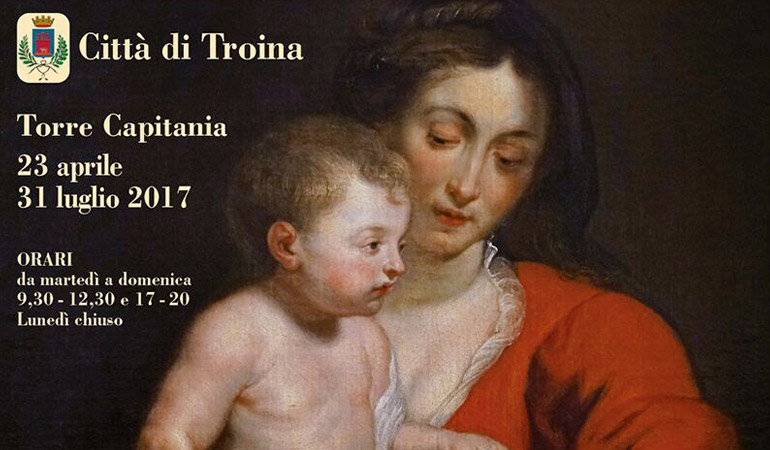 "RUBENS AND THE PAINTING OF THE CONTRARY" FROM 23 APRIL TO 31 JULY
In the ancient spaces of Capitania Tower, for the first time in Sicily the works of Pieter Paul Rubens, the greatest Flemish painter of all time. Along with the two precious paintings of Rubens "Madonna with child" (1617) and "Lot with the family escaping from Sodoma" (1615), the exhibition "Rubens and the painting of Controriforma" are depicted the 10 paintings "Santa Caterina d ' Alessandria "and" Sant'Agata Vergine e Marttire "by Scipione Pulzone," Mercury and the Deceitful Woodcutter "by Salvator Rosa," San Francesco in ecstasy "by Gerrit Van Honthorst," San Giovanni Battista "by Luca Giordano, visit to prison in Sant'Agata "by Pietro Novelli," Glory of the martyrs "and" Glory of the virgins "by Fra Semplice from Verona.
"TIZIAN PROPERTY, COMPETENT COMPETITORS" FROM 16 JULY TO 15 OCTOBER 2016
A primate in southern Italy: Troina is the only city in the south, south of Naples, to exhibit a work by Titian.
Two paintings: the "Portrait of Paul III with the Camauro" of 1543, and the "Portrait of the Lady" of the mid-sixteenth century. To "confront" with these two works the "Madonna of roses on the throne" of the second half of the sixteenth century, of the Ticinese brothers Aurelio and Giovanni Pietro Luini, the "Portrait of man, unknown officer" of 1626 of the Flemish painter Jan Anthonisz van Ravesteyn the "Ecce Homo" of the first quarter of the sixteenth century, attributed to the Bottega of the heirs of Antonello da Messina.
The portrait of Paul III, the most important work after the show, remains on display at Capitania Tower until mid-2017.
ROBERT CAPA IN ITALY 1943-1944 FROM 5 JULY TO 8 NOVEMBER 2015
The Capitan Tower hosted the temporary exhibition of 78 photographs taken by Robert Capa in Italy in 1943 and 1944 during World War II. Many of these photographs portray Troina and Sicily before and after the bloody battle fought between 31 July and 5 August by the Italian-German Axis forces and those of the Anglo-American Allies.
The exhibition, curated by Beatrix Lengyel, is conceived and produced by the Hungarian National Museum and the Fratelli Alinari Foundation for the History of Photography and organized in collaboration with the Municipality of Troina.