5 gastronomic delights
If you are looking for genuine food and want to experience the traditions of the Sicilian cuisine, you are in the right place! In Troina, ancient recipes handed down from one generation to the next, are still prepared with local ingredients and products of the Nebrodi area. In particular, do not miss: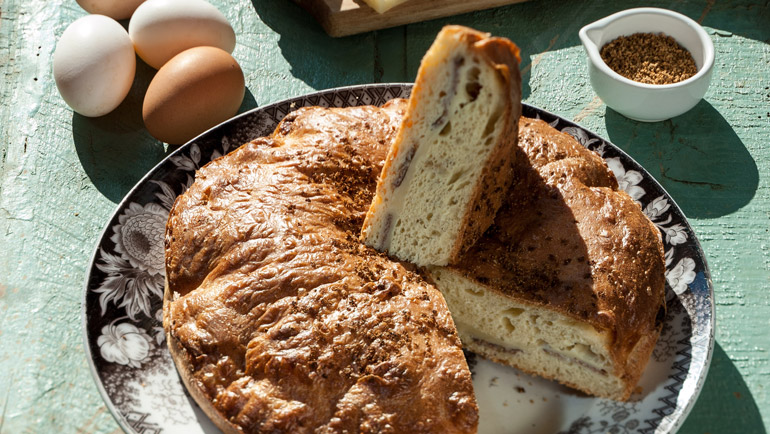 la "Vastedda cu sammucu"
It is the town's signature dish. Its name "vastedda" comes from the old French "gastel" and from the Norman  "guastel" and "wastel".  This focaccia (flatbread) stuffed with salami and tuma (a fresh, unsalted cheese) can be most certainly traced back to the Norman period – given its name origin and the type of ingredients used (meat and lard). The peculiarity of this ancient recipe, typical of the Nebrodi area, is the fragrance of the white and aromatic sambuco (sambucus nigra) flowers, which are sprinkled all over it. The vastedda is usually prepared during the spring, precisely while the sambuco plants are in bloom. This dish is a symbol of the city's identity and an exclusive product of Troina's cuisine.
Also, do not miss the appointment with the "Vastedda cu Sammucu" festival, which takes place every year in the spring, during the traditional festivities in honor of Saint Silvestro, patron saint of Troina.
La "piciocia"
Piciocia is a kind of polenta made with "rumanedda" or "cicerchia"(Lathyrus Sativus – typical legume of the area) flour and cooked with sausage, wild fennel or wild artichoke cardoons.
Oven baked cannoli
Baked cannoli (whose origins date back to Basilian monks and Benedictine Sisters) are prepared by wrapping the dough on a wooden rod. After the shells are cooked, they are filled with cream or ricotta cheese.
I 'nfasciatieddi
These sweets are filled and coated with a "prickly pear cooked wine", and sprinkled with toasted almonds.
I cudduri e i pasticciotti
These sweets made from almonds, pistachios, chopped hazelnuts, dried figs, cooked wine and sugar, are prepared during the Christmas holidays.